The KRASS news archive
Mai 7th, 2021
Together with the staff of Jumpers Düsseldorf, the children in Düsseldorf-Garath dealt artistically & thematically with children's rights such as: play and leisure, participation in cultural and artistic life, education, family and a safe home.
Sponsored by: Deutsches Kinderhilfswerk e.V.Kultur macht stark. Bündnisse für Bildung
May 4th, 2021
…we love cooperations, because together we charitable institutions are much stronger to make the world a little more colorful and cheerful for our children. THANK YOU to Düsseldorfer Tafel e.V. for the great donations
But see for yourself
May 3rd, 2021
Our Melanie is portrayed on film by our filmmaker Christian:
She herself has been actively involved in our operational project for a very long time, but read for yourself why she takes her voluntary work so seriously: "KRASS is approachable, especially in unapproachable times like these. You don't just give tutoring – you also become a confidant for children who have already been through a lot, because some of them have spent half their lives on the run. What's nice is that the kids look forward to tutoring every week because we can do a good program between tutoring, playing, painting and crafting." (Quote: Melanie Warnstaedt)
We are looking forward to the finished clip
April 28th, 2021
LiveArtChannel (KunstLiveKanal) on Zoom
If you want to become a great painter, you have to learn from the old masters. We took our mission of art and education back to our word and launched the LiveArtChannel (KunstLiveKanal). It's a series of digital events that our children can attend.
We talk about the great artists and show the children their view of the world. Then the children can try out the artist's style. So, our little ones were already on the trail of Warhol, Picasso, Kahlo, Dali and Keith Haring. The results have been great. Applause!
April 27th, 2021
We have known for some time that hip-hop workshops are very popular. That's why we've come up with a format like this again for the Easter vacations with Styleyourrights. Under strict Corona regulations, so that everyone is safe. For two weeks, 30 children made short films and wrote hip-hop lyrics. Accompanied by our professional artist Gabi Luigs and hip-hop artist JayJay. We were very happy about the active support of Jumpers Düsseldorf and the Gesamtschule Garath. At the end, the children were proud to present their ideas digitally on You Tube.
The .anders7.0 project wants to know!
"other role" What is life in a wheelchair like in Düsseldorf?
For the seventh time, our artists Barbara Rückert and Jason Firchow led the anders workshop, in which participants can tell their own stories. One idea was the wonderful documentary film "Andere Rolle" about a wheelchair user in Düsseldorf. The filmmakers accompanied her through the city to experience the challenges of her everyday life. They even sat in a wheelchair themselves. What an important message and a beautiful film.
Thank you for supporting our work! Whether voluntarily, financially or through donations in kind. Your contribution helps us to contribute to inspiring children from often difficult family and social environments through art and culture, so that their creativity is awakened and grows into the intangible. For a joyful life that goes beyond our imagination.
For this, and in the name of the kids, the Düsseldorf team thanks you from the bottom of its heart.
April 23rd, 2021
As part of the project "Style your Rights – it's your partycipation", a rap workshop on the topic of children's rights took place during the Easter vacations 2021. In the premises of the comprehensive school on Stettiner Straße in Düsseldorf Garath, 12 children had the opportunity to express themselves creatively and artistically. The children wrote their own song lyrics, which were professionally recorded by the workshop leader Jason Firchow alias JayJay. Unfortunately, due to the Corona Pandemic and sanitation regulations, the children were unable to record the song themselves and perform it in public. A concert will hopefully be made up soon. The workshops were the first blocks of the "Style your Rights" project. These will run until the end of the year. Many more art and culture blocks will follow. More children can participate in these.
April 06th, 2021
Today at the KRASS KunstKanal the children got to know Dali and his painting with the surrealistic elephants. A boy from faraway Oman was even there live. 👍It's 40 degrees there right now and they are two hours ahead in time. Here is a small selection:
April 01st, 2021
Superb cooperation with Jumpers-Düsseldorf and Garath Comprehensive School
First "Style your Rights" workshop with animated film + video
March 30th, 2021
Today on KRASS KunstKanal via Zoom: Pablo Picasso Cubism: Check out the artists' beautiful works!
March 23rd, 2021
The kids got to know the famous pop artist Andy Warhol from New York at the KRASS KunstLiveKanal with Katja. The beautiful pop art paintings are all about the approaching Easter.
March 18th, 2021
Under the guidance of our professional artist Barbara, the kids learned how to use scroll saws, hammers and drills safely and let their creativity run wild on today's World Recycling Day. Through artistic collaboration, the children develop social skills and strengthen their communication skills. The project's goals are rounded off by the fact that it is fun and that the children can always try out new things and grow with their tasks.
March 16th, 2021
Colorful flower meadows in the style of van Gogh's work "Flowering garden with path". Beautiful collages were created today in KRASS' KunstLiveKanal.
March 13th, 2021
What is life in a wheelchair like in Düsseldorf?
This is what the participants of the youth culture project "anders" by Krass e.V. asked themselves. This resulted in an experiment that the participants processed in the documentary film "Andere Rolle".
March 04th, 2021
The magazine "Libelle" reports in its current issue in the column "Stadtgeschehen" about KRASS. Click here for the article…
February 05th, 2021
…this week our KRASS staff members were on house visits (of course under the given hygiene regulations) and the families were asked about the general condition (is there anything missing? Can we help with donations in kind? Do the children need support with homeschooling by Naku lecturers?) and media equipment (is there a terminal for homeschooling/digital Naku?) In addition, each child received our KRASSes KinderMutMachMalBuch (children's courage coloring book), which our local branch Krass Lüneburg developed and financed to make the lockdown a little more colorful and to give a little hope and fun🥰.
January 18st, 2021
Are we able to create collages that are reminiscent of painting, without paint and brushes? YES, we were able to do it digitally in the museum workshop at Kunsthalle Düsseldorf with Mareike van Elsbergen.
January 11st, 2021
From our MediaLab we now also offer digital free tutoring with the necessary technical equipment. As sustainable help, so that children do not fall by the wayside with the school material. Even in a renewed lockdown.
January 1st, 2021
Without a doubt – 2020 was not a good year. We welcome the new year with a review of the projects that could only take place until March 2020 due to Covid19 and projects that could continue to take place under restrictions during the pandemic. We want to meet again. To do that, we need to stick together now. We can only get out of this crisis TOGETHER.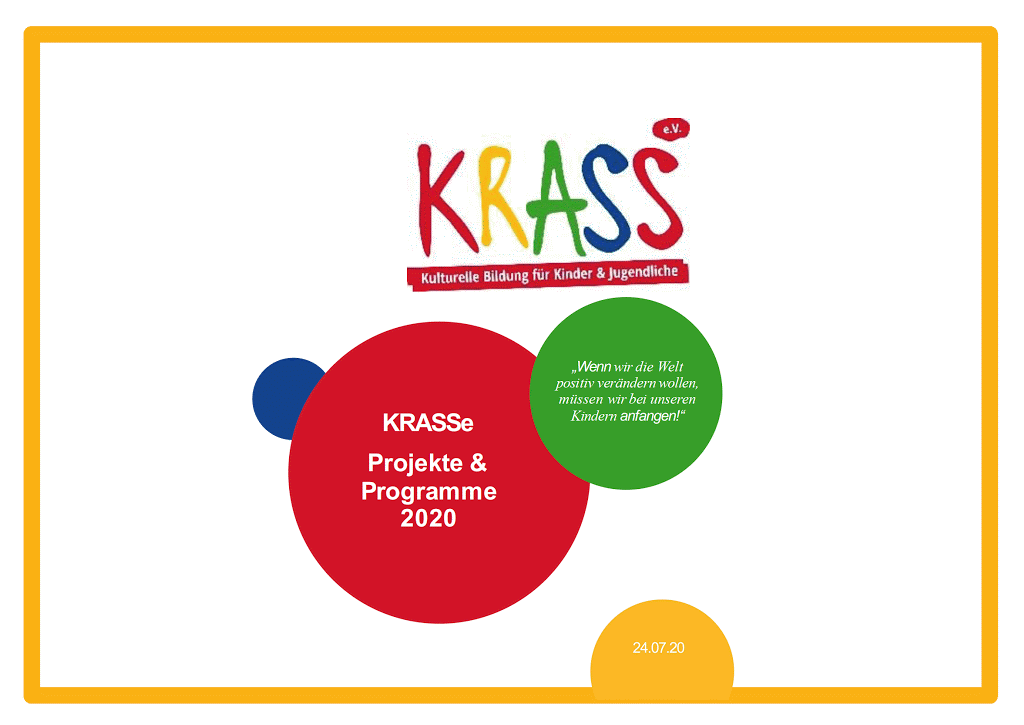 https://www.facebook.com/KRASS.Ddorf/videos/10157237291091735
December 22nd, 2020
KRASS is an association based in Düsseldorf that has been working for many years to give children that come from financially weak families access to cultural education. In the Covid19 crisis, this counts more than ever. That's why the association already visited families during the first lockdown with its numerous volunteers and distributed art packages in distance. In recent months, the "Tutoring Meets Art" project has been established to help children make up for the achievement gap caused by homeschooling and the lack of technical equipment. For this we would also like to thank our financial supporters: Deutsche Stiftung für Engagement und Ehrenamt, Stiftung Kindertraeume, Provinzial Rheinland Versicherung, the artist @adam.karamanlis, the @Roundaboutkids team and Allianz für die Jugend e.V. Northwest. There is a lot to do – let's stay tuned and MAKE it happen.
December, 2020
The campaign of Adam Karamalis & roundaboutkids (8,000 € donation) and the book sale of Locktidock (almost 5,000€ donation) have supported us very much in December. We thank from the bottom of our hearts for the commitment and donations.
September 7th, 2020
KRASS's mission principle
Our vision:
Creativity is the superpower that is created and trained in childhood and in which children are superior to us.
Fantasy, imagination and inventiveness are limitless and a driving force for a whole life. Encouraging them to the best of our ability is the best support we can give to children and, in fact, to ourselves.
We inspire little minds so that their creativity is awakened and grows into the intangible. For a joyful life that goes beyond our imagination.
That's KRASS:
To give children in all regions of the world the opportunity to develop themselves creatively is the mission of KRASS. That is why we are an association that is involved in culture and arts. For us, this is the most direct way to give children access to their creativity. We want children from all social backgrounds to be able to experience theater, art and culture. The target group of the projects are socio-economically disadvantaged, educationally deprived children and young people who come from precarious and insecure living environments. At KRASS we do not educate – we inspire. That is why we do not have educators, but professional artists, pedagogues and therapists with heart.
We awaken creative and social skills in children that prepare them for a happy life. And because creativity becomes even more beautiful when different minds come together, our KRASS team is as colorful as the children we support. We cooperate with professional partners because we are motivated and take responsibility. We include refugee homes, private and public educational institutions, children's hospitals, youth recreational facilities and companies into our projects. In Germany and around the world.
Welcome to us.
Our values:
We have a passion for our vision and for people. This should be tangible. In the work with children, sponsors and each other. Therefore, our values are important to us.
Creativity
Creativity is at the heart of everything we do. We believe in creativity as a superpower in every human being. For us, awakening creativity is the means to enable disadvantaged children to lead happier lives. Nevertheless, creativity is not a hard business that has to meet criteria for us. We love the playful approach to creativity in our children and our association. So that we can all grow into the intangible at KRASS.
Openness
The power of ideas knows no boundaries. Across all social classes, origins or ages, people like to engage in creativity. We openly address every target group. Whether children or parents who want to take advantage of our offers, sponsors who want to support us or helpers who want to participate. We always talk personally and friendly with everyone. Our openness is a condition for us to find the best solution to our challenges.
Tolerance
At KRASS we are colleagues and friends among ourselves. We behave this way in our dealings among ourselves, with our children and beyond. We respect people, appreciate their abilities and accept differences. Tolerance is the requirement for understanding and common understanding.
Therefore, we take a clear stand against aggressiveness, violence, xenophobia and sexism. First and foremost, we are role models for our children and that is how we should always behave.
Proximity
The personal closeness, the community and the informal and attentive togetherness are our strengths. We make proximity tangible: we welcome all interested people with open arms, introduce ourselves and our association and invite people to be part of our community. We enable them to deal with their own creativity in an interesting way. Existing employees, supporters and families are a part of us. They always get a personal attention and address. With us, everyone is important and is part of our community – where we are against the formal.
Fun
Children's eyes should stay big with us. That is why we do not impose any constraints. We let the children express their individuality in painting and acting. Our artists help, inspire and coach, but the most important rule is that we do not criticize. We prefer to create free space and awaken potential.
Responsibility
High professionalism in every area distinguishes us. We are aware of our responsibility for the correct handling of children. Things work for us: on a large scale, on a small scale and on the whole. We put in our personal effort and always look for the best solution with the right partners.
September 05th, 2020
News from the project "anders 7.0"
Photo shoot on the topics: Gender Diversity, Freedom of Expression in Corona times and Life in a Wheelchair. Great pictures came out of it. The young people celebrated their "being different" and met each other in complete acceptance and tolerance.
August 17th, 2020
Great news: We are launching the KRASS project "Tutoring in the MediaLab"! A new school year has begun, and children now have to deal with many new challenges. The Corona scare is making learning difficult for children and students to motivate themselves. Many of them are unable to meet the required workload and feel a lot of pressure as a result.
We want to help the children out and offer them tutoring. The tutoring consists of learning in small groups, the promotion of independent learning, as well as the organization of common leisure time.
August 11th, 2020
We were on the road again with our KunstAmbulanz in refugee shelters in Meerbusch and gave the children presents with our KunstAmbulanz-Bags!
August 10th, 2020
On August 22nd, 2020, the Volunteer Fair of the Department for Civic Engagement in Düsseldorf will take place digitally for the first time due to the pandemic.
We will participate and present ourselves and our work alongside numerous other associations, institutions and organizations. The virtual fair offers everyone a platform to inform themselves and get involved on a wide variety of topics.
Until the launch of the website, you can look forward to informative and exciting short descriptions, videos and livestreams.
August 7th, 2020
Not every child is lucky enough to be able to celebrate his or her birthday with a party, but there is nothing better than children's smiling eyes when they blow out the candles on the cake.
To give children who otherwise would not have the chance to celebrate an unforgettable birthday, we teamed up with the Bürgerstiftung Düsseldorf to throw a KRASS birthday party for 50 kids from Düsseldorf-Garath.
Here we go with Dustin and his friends! We wish everyone a fantastic day.
July 16th, 2020
Today, we would like to thank Stadtwerke Düsseldorf from the bottom of our hearts. In fact, 1,500 employees donated their company outing day and are now giving this amount to various Düsseldorf associations, in support of the people who were facing difficulties due to the Corona crisis. We are honored to be part of the beneficiaries and look forward to realizing more great projects as a result.
July 1st, 2020
It was with heavy hearts that we said goodbye to our beloved KinderAtelier today. While packing the many boxes, we discovered years of wonderful memories experienced here. Children's laughter, art, security, warmth and lots of love – we put it all into these premises. Together with the KRASS children we livened up this place and created a familiar atmosphere – everyone just had fun here. We thank everyone who enchanted this place and gave their energy to the children. This wonderful time will live on in us.
But as of today, we are facing a new chapter. We are full of sadness and now have to leave our beloved KinderAtelier behind. New challenges await us, but we will successfully overcome them together.
June 10th, 2020
Our laptop donation appeal was heard and noticed!
We thank Ralf Hamm from Labdoo (Labdoo Germany) for this great support!
We are currently in the process of delivering the laptops to the children. This will ensure better and faster learning in tutoring classes – without any possible health risks!
The world is becoming more digital, and now in Corona times we realize: The children need technology to help them meet the demands of school at this stage.
We are deeply grateful and are now able to go one step further because of this grant. Labdoo has also helped out with laptops for other KRASS projects in Cambodia, Greece and China. Together we are stronger!
June 8th, 2020
In the last few weeks, we have put together a great campaign with our volunteers so that our KRASS children can still enjoy art and culture in the times of Corona. Packed with sidewalk chalk, we drove to various places in Düsseldorf and let creativity do the talking. Each child was given his own packet of chalk with which they could colorfully decorate the squares. Thanks to the works of art and the shining eyes of the children, the places shone in a new splendor! But we are by no means finished yet! We would like to thank the Bürgerstiftung Düsseldorf for their financial support.
June 6th, 2020
We do not just talk – WE just get on with "Anders 7.0" in the starting blocks!
Here young people get the opportunity to live out their creative talent. Professional know-how, the support of the project leaders and the necessary materials are offered. Whether your passion is music, art or texting – everyone will find something for themselves here!
We start on Monday June 22, 2020 at 17:00 to 21:00 (as long as no new regulation is announced – always on Mondays). Where: At the Junge Aktionsbühne in the Haus der Jugend, Lacombletstraße 10 (Derendorf).
https://www.facebook.com/KRASS.Ddorf/videos/259182032080872/
June 4th, 2020
What a huge support from the 'Deutsche Postcode Lottery'! With this we are able to support more kiddies with our art outpatient clinic in various places in Düsseldorf. The children discover their own artistic talents and strengthen their self-confidence.
We are grateful for this funding, which we applied for. It helps us to fulfill our KRASSe mission.
May 28th, 2020
"Every child has a right to free access to culture and education!" We are there – whether in easy or difficult times.
The Paritätische NRW dedicated a nice article to us about our art care pacts with the KunstAmbulanz. Check it out, read and share what you can so that even more people get to know our KRASS mission!
May 27th, 2020
What a wonderful gift!
We would like to thank the Town & Country Foundation for this great donation of 1000 Euro! We are incredibly grateful and look forward to realizing new actions and projects for children with the help of this support.
May 24th, 2020
Now always on Mondays: tutoring in the KinderAtelier!
From now on we offer children additional support to cope with their schoolwork. The current situation is an overload for many children and their parents. The usual school routine no longer exists, and now students and teachers are facing great challenges.
There will be an individual tutoring program with arts and culture, which will be as follows: The experienced member of KRASS Melanie Oberreuter will meet for 90 minutes per family. Of this time, 60 minutes will be spent on homework and exercises and 30 minutes on art! Sign-ups for face to face tutoring via email: info@krass-ev.de.
May 5th, 2020
It became colorful in Düsseldorf-Hassels, because KRASS was there! The children were beaming when they saw our KulturMobil with the 100 packets of sidewalk chalk. Each child received a package with 10 colorful chalk blocks as a gift.
With this great surprise, creativity and joy were not long in coming. The new chalk had to be tried out immediately, and so the square was transformed into a work of art. Melanie, Karim, Katja, Yasser, and Derya gave enthusiasm, pleasure, and big smiles. A successful day is now over, and we say: Mission accomplished!
April 12th, 2020
Crayons wanted! The Düsseldorf-based association KRASS e.V. has made it its mission to relieve children of boredom, stimulate their imagination and, at the same time, boost social life and level out differences.
But now KRASS e.V. is having glaring problems.
Until recently, Claudia Seidensticker's association took care of socially disadvantaged children from Düsseldorf with the Oberbilk children's art project KinderAtelier.
Because of the Corona restrictions, the association has now had to stop this help. To continue, the association needs a quick solution – for its children. Because many of them now lack access to the playful art offerings. Claudia Seidensticker says: "Meaningful employment is all the more necessary now, however, because both children and parents are exposed to a significantly higher psychological burden due to the Corona restrictions – such as the closures of daycare centers and schools."
That's why the association invented its Art Surprise Bags. Small packets with paper, pens, craft materials along with accompanying instructions and personal messages!
Two volunteers drive by our children's homes and deliver the presents "contactless". In this way, we strive not only to address the children digitally, but also to maintain personal contact and appreciation."
Source: https://www.lokalbuero.com/impressum/
April 10th, 2020
So much has happened in the last few days as KRASS just keeps going online, despite Corona. We teamed up with parents and kids online to help with a great fundraising campaign.
The KRASS kids worked with their parents to make great Easter gifts for the nursing home. This resulted in so many great Easter bunnies! This is how you make Easter a great celebration for young and old!
March 27th, 2020
… and these are some of the results of "our" KRASS children.
March 25th, 2020
On Wednesday we received our first care package.
March 23rd, 2020
Help – we need you!
We urgently need new craft and painting materials. We now support our children digitally and bring them the necessary art materials to their doorstep. Many kids can now participate in our projects this way. However, our supplies are depleted from the numerous deliveries.
We need your help now to reach even more kids – every contribution counts! Let's put a smile on the little ones' faces.
Please send the donations in kind to the following address:
KRASS e.V.
Claudia Seidensticker
Grafenberger Allee 269
40237 Düsseldorf
March 22nd, 2020
How nice! Our KRASS children are already starting to get creative. Now everything can be tried out, because art knows no boundaries. We'll provide you with the ideas, and you can use them to create your own world. Look forward to more great posts from us – filled with new and imaginative inspiration.
We look forward to more great pictures of your artwork!
March 21st, 2020
Dear children, since we can't meet ourselves at the moment, we would like to give you ideas for home this way. As you know, we are all supposed to stay at home now so that we do not infect each other. And outside it is spring, the leaves, flowers and insects are coming back. You can also bring spring into your room:
First, paint a large white paper with blue watercolor, you can use different shades of blue. Paint a second sheet with green colors. When it is dry, cut it into small pieces. Now you need another large piece of paper. Draw a line in the middle. Glue the blue pieces on top to create the sky. Do the same for the meadow. Now you can paint flowers and insects, cut them out and spread them on the picture. A sun would be nice too …
Paint the spring as you like. When you are done, send us a photo of the artwork and write your name and age.
March 19th, 2020
Carmen Fett is coming back!
Almost a year ago she started her journey. Traveling only by bike, she explored many new countries and collected donations for KRASS along the way.
But now it's time to come home! She is feeling the effects from the coronavirus. She notices how fear and insecurity are rising everywhere, and as a foreigner it is not easy right now.
This current difficult situation in our world has thrown a wrench in her plans. Even if she has to stop her travels – we are extremely proud of her! She explored 16 countries – mostly alone. We tip our hats and look forward to seeing her again and hearing about her adventures.
March 13th, 2020
Dear KRASS members, dear supporters and dear friends, for days we have been following nothing but the course of the Corona pandemic in the press. And as long as it did not touch the own sphere of life, one or the other may not have taken the possible effects so seriously or hoped that it would pass quickly.
Unfortunately, this is not the case and from Monday many schools, kindergartens and other public and non-public facilities will have to close in our country to slow down the spread of the virus and protect vulnerable people.
KRASS is also stopping its ongoing projects until further notice in order to do its part for the public, even if it is very difficult for us.
But please let us stay calm, because there is always a solution.
And maybe this forced break will help us to catch our breath, to concentrate on what is really important and to find new, maybe better ways.
In this sense:
I am insanely looking forward to a healthy and happy reunion in a few weeks.
Of course we are always available for you on the usual channels.
Sincerely yours Claudia
March 4th, 2020
And here is: Anastasia Hille.
The trained musical performer and singer directs the choir at the Geimeinschaftshauptschule Graf-Recke-Strecke. She shows the children that every voice is unique. Modern, desired songs are chosen, which are worked out in the group and then sung in several voices. Everyone who wants to may also try out solo singing. This is how the kids learn singing techniques and harmonies.
Shame? Not a trace! The motto here is: Everyone can sing well in his or her own way. You support each other and get applause. Yes, making music can be so beautiful!
March 1st, 2020
Melanie Oberreuter visited Darian (7 years, from Romania) at the KMT ward #UKD. The girl painted a picture full of fantasy and creativity. And it is so great that we do not want to withhold it from you and tell you the story about it:
In the picture you can see her on the bottom left with her mother. And on the right side her father works with his colleagues in a company. And further up you can see a prison. Next to it, a policeman is arresting a money thief. Another lawman brings the money bag of the thief to the mother.
As you can also see, the sun is sending warm rays – and lots of hearts!
With this wonderful picture, Darian has hit us right in the chest! We wish her all the best and look forward to seeing her again.
February 28th, 2020
Getting to know colors and living out creativity is important from the earliest years. That's why KRASS e.V. also paints with toddlers. Here, the little ones put colors on paper as they please. In the process, the children watch each other and can learn something new. And the best thing is that learning is combined with a lot of fun.
February 22nd, 2020
Today we introduce you to another KRASS lecturer: Jason!
Jason has been enriching KRASS since 2016, bringing light to countless children and youth's hearts with his dedication. Whether it's music, graffiti, or art/culture, Jason knows what moves young people. And that's exactly why he successfully led and designed numerous projects:
– Cooperations with the Junge Aktionsbühne, Diakonie Düsseldorf, Heinrich Heine Gesamtschule, Dieter-Forte Gesamtschule
– Carnival projects and parades "Bunt wie die Welt 2018" and "Arche Noah 2019
– Experience fairy tales at museums
– Integrative art project "anders Projekt 1-6".
– Refugee work at the emergency shelter on Rossstraße Düsseldorf
– Projects at various schools
Quite a lot, huh? But that's not enough! He also supports KRASS administratively.
You can really count yourself lucky to have such a motivated and talented person on board. But why did Jason decide to join KRASS in the first place?
Our mission to ensure access to arts and culture for all children is also in line with Jason's beliefs. He appreciates the "know how", the quick implementation of his own project ideas and the helpful interaction within the team.
We thank Jason Jay for the invaluable work he has brought to KRASS, and we look forward to more great projects with him. Photo by: Samira Kreuels.
February 19th, 2020
Our contributions are worth reading and listening to. And we want to share our KRASS information with lots of people – regardless of whether they live with limitations or not. Because it is very important to us that everyone – really everyone – feels they belong and can participate.
To this end, we have gladly taken the time and effort to make our website accessible. Now users have the possibility to change the font size, for example, by means of the help tool.
We are happy that we can give even more people access to us and information about our mission.
February 14th, 2020
Today we would like to proudly introduce our KRASS member Margit Quicker-Coluccini!
The daughter of a craftswoman and an artist quickly learned the wonders of creativity: at home, everything was homemade, repaired and designed.
In 2015, Margit came across KRASS online and was immediately hooked on our concept. Since she feels that access to art and culture is important for all children, she decided that she would like to volunteer to support our KRASS association. And after getting an impression of the operational work, she was then completely "KRASS infected".
Since then, she has been doing administrative work for us and it is hard to imagine life without her. She coordinates the volunteer administration – i.e., among other things the admission of new members and their deployment, issuing of certificates, updating of the membership lists and weekly schedules.
We owe Margit a lot. She is a part of our KRASS team and absolutely indispensable.
February 13th, 2020
Our hearts are beaming with joy! We would like to thank the Wirtschaftsjunioren Düsseldorf for their wonderful support! Such great people make it possible that we can continue and expand our mission. Therefore: once again a big thank you from the whole KRASS team!
February 12th, 2020
As you know, KRASS is all about children! We want to give them knowledge and values that they can use for their later life. And we want them to have a lot of fun and feel safe.
The following video was created during the project "Die Trickfilm-Helden" (=the cartoon heroes) with our honorary lecturer Annette Jacobs. Here, in addition to the creative work, information was provided about an important topic: children's rights.
We want our KRASS children to be able to go through life with self-confidence and have developed this concept for this purpose. We hope that you like it as much as we do and that you have fun watching it.
February 11th, 2020
What does KRASS actually do and how does it work?
For all those who are interested, we have a link that deals with exactly such questions.
There you have everything at a glance and are well informed! For further questions we are of course at your disposal! Click here: https://krass-ev.de/de/index/der-verein/faq/.
February 9th, 2020
We now take a look at the work of Dusanka Mitrovic at KRASS. With children's make-up, the kids can slip into a different role – and they love it! Whether vampire or butterfly – our KRASS member Dusanka enchants our kids with her arts.
February 8th, 2020
Introducing our new intern: Hong Mai Ho.
Hongi Ho is 20 years old, lives in Düsseldorf and studies English and Communication and Media Science.Hong Mai will be giving KRASS a big helping hand over the next few months. We will give her an extensive insight into our work so that she becomes a huge part of the team.During her time with us, she will be taking care of the following areas: Press and Public Relations, Social Franchising, Fundraising, Project Management and Operational Project Work.
Hong Mai associates with KRASS: progress and future. She stands behind our mission and admires the close cooperation. With her previous knowledge she wants to support us and convince others to become a part of KRASS too!
February 2nd, 2020
We support a wonderful project in the bone marrow transplant ward (KMT ward for short) at the University Hospital Düsseldorf #UKD. We have been active there weekly since 2016.
Our wonderful lecturer @Melanie cares for the respective children individually. These KRASS children are waiting for a bone marrow or stem cell donation after chemo.
To reward the bravery of the little fighters, they get their own creative lesson with Melanie. They paint, create things, and so on, according to the children's wishes. Because being artistically active means joy and growth. And we know that these children especially need that. We are happy to see how much the children benefit from our offer and give us a warm smile as a thank you.
January 29th, 2020
Let's welcome Melanie Oberreuter!
She joined KRASS in January 2020 – so she's a brand-new member of the KRASS family!
She studied administrative law. However, that did not stop her from loving and living art. She has been painting for 30 years, self-taught or through numerous painting classes/art workshops. She is a freelance artist and part of the artist community "kunstpunk.19".
And now she has additionally decided to use her experience and skills for our KRASS children. Once a week, she will visit the kids in the children's studio, at the KMT ward in the University Hospital Düsseldorf (#UKD) and in the summer with the KulturMobil.
Her motto is: "Everyone can be an artist." And she is always amazed at how the children from KRASS put it into practice every time they create great works full of fantasy and creativity. Melanie always has a lot of fun with the kids, and she is happy that she can support them with art.
We are happy that she is now a part of our KRASS family!
January 25th, 2020
What a great evening at the New Year's reception of the Junior Chamber of Commerce. Yesterday, the auction of a painting by the renowned painter Manfred Dahmen raised about 1,000 euros. We thank you from the bottom of our hearts for the great donation.
January 20th, 2020
Kim is back!
She joined us in April 2019 as an intern. Kim then gave birth to her little Karl in November and took a well-deserved break.
But now in the new year, she's back and eager to join our KRASS mission.
Kim is 26 years old and studies culture, aesthetics and media (master) at the university here in Düsseldorf.
No matter if it's art or organization she gets everything under one hat. Kim supports and accompanies our projects in the field of art and media. But if there's a fire, she's also on the front line organizationally and handles tasks in the management area.
Kim appreciates the personal interaction, diversity and sustainability at KRASS. We are happy to welcome her back and look forward to another great collaboration.
January 18th, 2020
Hello to all of you lovely KRASS supporters!
We have a wonderful announcement to make: KRASS now has a MediaLab! Digital media are a part of our society and we cannot imagine our everyday life without them. But they have a bad reputation: children are only attached to their smartphones and do not want to occupy themselves with anything else… But is that true? We say: No! Digital media and new technologies offer so much more than we often think. They are part of our lives, and we want to show our KRASS children ways to use them responsibly and develop something unique. This way, they learn how to deal with the digital world in a sensible way and are prepared for it at the same time.
That's why we put sweat and love into our MediaLab. Enjoy the tour!
January 16th, 2020
The exhibition "Taking Root" with Mareike van Elsbergen went down great with the kids! They were able to view the works of eleven artists. "Taking Root" deals with the question of how artists can take root in a world full of conflicts of interest and different beliefs.
There was so much to discover! And after the kids had soaked up all these impressions and gained inspiration, they naturally became artistically active themselves and gave free rein to their creativity.
January 15th, 2020
We introduce our KRASS employee Katja Hübbers!
Once a week, she visits the children in the KIA (KinderAtelier), and in the summer she takes care of the KuMo (KulturMobil) in the Hanielpark.
She studied communication science and art science. Since 2005 she has been working as a freelance artist and art educator. In addition, she owns a studio space for her art and works freelance at an elementary school and for an educational institution in Essen.
Katja is always fully responsive to the kids.
The children want to try something new? No problem for her! Because creative ideas just bubble out of her. So, there is always something new to discover and boredom is a foreign word!
We thank Katja for her huge commitment to KRASS!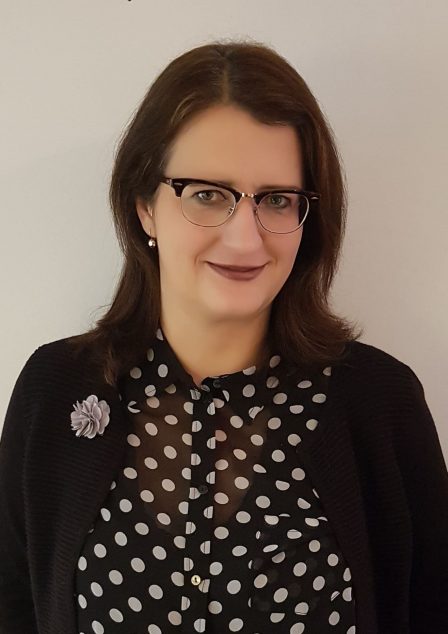 January 9th, 2020
Ms. Fett continues to cycle for a good cause! She is currently in Georgia and proudly shows that she is a part of KRASS. Right now, she is experiencing the most beautiful adventures and making new experiences. And you can follow her on Instagram (Instagram: fraufett).
But when she comes back, she wants to start a project and share all her great experiences with the kids. You like the idea and want to support her on her great journey? Then visit this link: https://krass-ev.de/…/mitmachen/radeln-fur-den-guten-zweck/. Help her to make her dream come true and bring the project to life for the kids.
December 31st, 2019
Have a nice and happy New Year's Eve!
https://www.facebook.com/watch/?ref=external&v=1237285386475972
December 30th, 2019
Behind the scenes, KRASS is currently showing pure female power!
We have Claudia Seidensticker, of course – the KRASS mother. She holds her protective hands over everyone. It is through her that everything gets its color and starts rolling.
Another power woman: Car Gonzalez. She takes care of controlling, accounting, fundraising and communication with sponsors. She has a good overview of everything and always has a good strategy at the ready.
Our organizational talent Vivi Sz. She also takes care of fundraising, communication and project management. If there is a problem, she is immediately on the spot and has a solution ready.
The one who is always online: Tasi Catman – responsible for our social media platforms. She brings creativity and knowledge about media. Voila – and that's how a beautiful post is created.
And if something does not take place in Düsseldorf and the surrounding area, she reports on it: Katrin Frankenberg. No matter if it's in Hamburg, Cologne or somewhere else. She knows what is going on.
And of course, we have to make sure that our great employees are well managed Inger Etzel (HR), and she also takes care of the annual balance sheet. And Margit Quicker-Coluccini takes care of the administration of the volunteers!
December 29th, 2019
Today we introduce you to our dear and KRASS lecturer Mareike van Elsbergen.
She studied Creative Therapy in the Netherlands and is now a certified art therapist and occupational therapist. In addition, she also trained in poetry and bibliotherapy.
Next year she will have been with us as an artist for five years – how quickly time flies.
Mareike is in charge of the artistic projects in the refugee camp. And there it is really colorful, as you can see on the picture. She just knows that art can be so much fun – every child's heart jumps higher!
But Mareike not only there inspires with her artist-knowledge. She has also conceived and accompanied a multitude of individual projects. And she is also present at every exhibition in the Kunsthalle and KIT. There is always an intercultural workshop, which she gives form to and carries out with us.
Quite a lot, isn't it? She is a wonderful part of KRASS that we do not want to miss!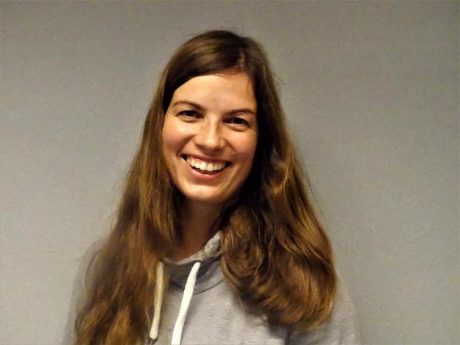 December 24th, 2019
We wish all people, who support KRASS so great, a reflective evening, security and love in the circle of the family.
Warmest regards and I wish a good health and plenty of wonderful moments for you and your beloved ones in 2020.
Filikous chairetismous kai tis efches mou gia to 2020. Se esas kai tous agapimenous sas kali igia kai ametrites stigmes eftichias.
July 16th, 2019
Yay, the summer vacations are here! That means that there is now plenty of time to do great things. Of course, this is also true for the boys at the refugee shelter in Grünewaldstraße.
So, they quickly jumped into the car and went to the Rheinbad to make the most of their free time. A visit to the swimming pool is simply a must during the vacations! But don't worry, our instructor took the wheel again.
And what else do they want to do on vacation? The boys have a lot of ideas… We'll keep you updated!
July 15th, 2020
KRASS kids, KRASS team, KRASS supporters,
Yesterday the Kumo was again with @mutabel on the road at Parklife for the home game in Hanielpark.
Despite cloud cover and not quite summer temperatures, the KRASS tables were packed with busy children. Just look for yourself!
Yesterday we also got a visit from our carpenter Dirk Schmidt from Flingern, who supports us so energetically for this project with wood cutting. Thank you!
We had fun, children and crew alike and are already looking forward to the next Parklife in the Hofgarten! See you very soon.
July 12th, 2019
Check out the result of our little film directors of KRASS! Didn't the video turn out great?
July 9th, 2019
During the project week at the Gesamtschule Stettiner Straße, in Düsseldorf-Garath, class 5D presented the result of their workshop in the auditorium. Together, the students collected what Garath means to them: what is great, what they would like to see different and summarized this in rhymes, created a dance performance for the rap and presented the overall result. The performance was rewarded with minutes of applause, and everyone in the auditorium was beside themselves.
July 8th, 2019
This weekend it got big, really big! On Friday and Saturday, the kids could really let off steam in a workshop at the Kunsthalle Düsseldorf with Canadian artist Megan Rooney and our instructor.
June 5th, 2019
Incredible! The world record attempt initiated by Borussia Düsseldorf in table tennis round robin in the MERKUR SPIEL ARENA – we were also there. Claudia Seidensticker cheered on our dancing kids and the record participants live at this great event, which Elsa hilft co-financed.
May 24th, 2019
Under the motto "Creativity inspires connectivity", three Vodafone "5G Cubes" (routers) were designed in Hamburg by Berlin mural artist Thierry Nord and others. These are currently being auctioned on eBay, with the proceeds going to KRASS and our "Art in a Children's Hospital" project. What a great charity campaign by Vodafone Germany and ADC. Many thanks to all involved!
May 16th, 2019
Children help children. Also, this year the Schloß-Gymnasium Düsseldorf-Benrath has diligently collected money for a good cause through a charity run. A check for 2,000 euros was ceremoniously handed over yesterday. We are super happy and grateful for this donation and will use it to give disadvantaged children and teenagers culture and education.
May 4th, 2019
Dressing up, putting on makeup, slipping into a new role and working towards a great performance is a very special experience for every child. Clear the stage for "Alice in Wonderland" performed by our KRASS children of grades 5 & 6 of the Garath Comprehensive School in Düsseldorf. As part of our long-term project "Experiencing Fairy Tales in Museums", the kids could choose between regular workshops including dance and theater, costume design or stage design. At the end, the children presented their skills in a joint theater performance. These kids have what it takes!
April 9th, 2019
It has been open for over 6 months now. "My heart's desire", as Claudia Seidensticker calls the KinderAtelier, because she helped to plan it from the beginning. She invested her heart, soul and time.
But above all, because of the little artists who drop by – quite shyly at first, sometimes with little self-confidence. The artists Barbara, Tine, Katja and Mareike often hear: "I can't do it".
As a result, they sit down next to the kids, take up the brush themselves or mix the colors and show the techniques. They show that there is something to the saying: "The proof of the pudding is in the eating."
And then something happens that always amazes us at KRASS: the kids leave their protective walls, come out of their shells, confide in the artists and trust in themselves. This is especially evident during picture discussions, where the kids tell us something about their artworks. Whether they paint with Mareike's pastel chalk, make small boats out of Barbara's natural materials, or build a model village out of the tetrapacks that Tine collects: Behind each work of art are entire stories, incredibly exciting and touching. A matter of the heart.
You want to have a look at the boats and the other artworks? Visit us also on Facebook!
April 1st, 2019
Our KulturMobil can be found at a total of 9 locations in 2019.
Once a week we are at the playground Schillerplatz, Achenbachstraße 82, 40237 Düsseldorf. The playground is located in city district 2 and is equipped with green spaces, table tennis tables, slides, swings, a kiosk and a public bookcase. The children are very happy about the art offer.
The playground Fürstenplatz, Fürstenplatz 17A in 40215 Düsseldorf is visited by the KulturMobil once a week. The playground offers playground equipment for all ages, ice cream parlor and bakery are in the immediate vicinity, rope climbing frame, small houses, sandbox and even a table tennis table offer the children great variety.
The Florapark, at Palmenstraße 1, 40217 Düsseldorf is particularly popular and is also visited by the KulturMobil every week. Here there are old trees, well-kept grounds and paths, a great children's playground and a fenced-off dog playground. There are 15-20 children with us all the time. Already when we are setting up, the first children come and take part in the free painting program.
Per month we are also in the Volksgarten/Südpark playground, at Emmastraße 35, 40227 Düsseldorf.
The Zoopark playground can also look forward to a visit from the KulturMobil. It offers crates, swings, climbing equipment and water games.
The Hanielpark playground, in Grafenberger Allee, 40237 Düsseldorf, is visited once a week. In total, the large green area offers two playgrounds. The front playground is equipped with climbing frame and swings. The rear playground, on the other hand, has a waterway, small slides, and play boxes.
Once a month, the KulturMobil also drives to the playground in the Ostpark at Sulzbachstraeß 25. The playground is a shaded playground with a water pump, benches, several slides and a climbing frame.
Lastly, the KulturMobil is on the road 14 days a week in Holthausen Kamper Acker. The playground offers a climbing frame and a large area. The children get the opportunity to experience variety in art and culture through the time. The parents are enthusiastic, curious and also happy to give their children into our care for a change. Visit us without any obligation. It is really something special to see such a moving Atelier.
May 31st, 2019
Today was the day!
Our lecturer "Ms. Fett" is riding a bicycle from Düsseldorf across Eastern Europe, Asia to Australia and will animate people worldwide to do good for others, and thus collect donations for KRASS e.V..
Dear @fraufett We wish you a good journey, great adventures and unforgettable moments.
Since Krass e.V. is not only active throughout Germany, but also realizes projects in Günzburg/Bavaria, Athens and Shanghai, among other places, she will travel to these cities as a fixed destination in order to carry out a respective short-term project with the children there.
On her journey, she will be accompanied by red balloons, which she will photograph with the various people she meets on her trip. A red balloon as a symbol of HOPE, EQUALITY and LOVE. Values and goals that our society, regardless of faith and nationality should seek, as well as live.
What she experiences on her tour, where she is and what experiences she collects, you can follow on her blog.
You find the action of @Fraufett incredible?
Then donate here!
March 4th, 2019
This was a once in a lifetime experience for a total of 70 young and young-at-heart people from Düsseldorf and refugees aged 12 to 16: participation in the Shrove Monday parade at Carnival 2019 in Düsseldorf!
February 16th, 2019
After the successful implementation and presentation of the "anders projects 1-3", "anders4.0" goes into the next round.
New texts rapped, poetry and slammed, pictures bang colorful, filmed and thrown on the wall, new tones were created by beatboxing, plucked and struck, wild heads and old braids off, views that's diversity in action at anders 4.0.
December 1st, 2018
With a giant Noah's Ark, the KRASS Ark for children's rights, we will reinforce the Düsseldorf carnival parade. We will have plenty of celebrity support: Jacques Tilly, the notorious carnival float-building artist, will construct the ark. On the float itself, Rosenmontag will be represented by animal celebrities: Giraffes, lions, elephants…thanks to the dedication of our KRASS children and instructors, the furry passengers will not only make bombastic musicians, but prove how good it is to dance on four legs.
November 16th, 2018
It's November 16, 2018, a Friday. A day like any other? Not for the dancing talent Leylah, because today KRASS filled out the application form for a ballet school. KRASS eV. will cover the monthly fees for the school in Düsseldorf's city center as part of a scholarship. And for Leylah a long-cherished wish of her heart will come true. She will dance ballet. The very next day, she picks out her basic equipment, which every ballerina needs: pink ballet shoes, white tights, a pink bodysuit and a wrap-around jacket in pink – of course! Once already we were allowed to accompany the nine-year-old. With her hair twisted up into two little chignons pinned in place, Leylah twirled across the dance floor. We barely managed to get her on a photo. Proud as Oscar – or better, like a prima ballerina – she shows us her newly learned dance steps. Pirouettes. She even manages a balancing act. But the most beautiful and expressive thing we find in Leylahs' face: shining eyes and a smile that stayed on her lips the whole lesson.
November 5th, 2018
Goals of the educational intervention in these special gender workshops:
Lifeworld orientation of the individual and the group. Expansion of the comfort zone in terms of lifeworld orientation. Successive integration of new skills into the self-image. Self-esteem enhancement in the context of social cooperation.
We built benches with the young people. Looked at motor skills to plan future actions. Life-world orientation: what do the young people need, what do the young people want, and what opportunities does this open up? This process will continue and will be examined in further craft actions. It was about drilling and screwing. Also: integration of a new young person into an existing group.
This time it was about painting and varnishing. We built a canvas together, using skills acquired at the last meeting. In the process of cooperation, the young people were able to decide on a unified message: We want freedom! The canvas remained in the refugee shelter so that in the future the young people can look at the successful work.
At next meetings, sawing took place. Not a single one of the seven young people who had fled had sawn before. This task required a special degree of mindfulness. The youths focused appropriately for the danger. The boys were very proud. All were given a positive certificate of fitness for work. We are now ready for bigger projects. The boys want a soccer goal.
October 13th, 2018
On October 13, 2018, we opened the KinderAtelier at Linienstraße 78 in Düsseldorf-Oberbilk with many creative workshops.
"Through our playful, non-judgmental and unconventional approach, we want to sustainably promote children's confidence in their own abilities and help their talents to unfold.
Children's studio (KiA) opening hours:
Mon: closed
Tue: 16-18 h open studio (from 23.10.2018).
Wed: 16-18 h open studio
Thu: 16-18 h open studio
Fri: 16-18 h
Sat: closed
Sun: closed
Dates for special projects and events will be announced:
October 6th, 2018
…many thanks to all volunteers and the two artists who made the day a happy, creative and networking Saturday. THANK YOU to the team from the Düsseldorf City Hall for the great organization for the 2nd Düsseldorf Volunteer Fair.
August 25th, 2018
For the 3rd Büdchentag in Düsseldorf, KRASS was present with an extensive program at Schillerplatz for the annual Büdchentag.
The well-organized event under the motto "Summer Festival" which took place from 12 – 22 o'clock, not only inspired many visitors, but also the makers themselves.
Highly motivated artists, administrative volunteers and musicians met on this day, partly for the first time, although they are sometimes already longer active for the association KRASS and thus also promote and support the cultural education of children and young people.
The KulturMobil, equipped with everything that promotes children in terms of painting, handicrafts, modeling and making music, had placed itself in the middle of the action. Children could thus simply give free rein to their artistic vein.
A truck equipped with tables and benches for the event later became a canvas for posters of the artists, as well as a backdrop for the stage of the band of Antonius Papamichail, who could inspire on this day with Greek live music, as well as for the all-day background music of DJ Chris Feculak.
Many artists/musicians/educators traveled to create music and dance to bring practical application to the children on site.
For example, Mareike van Elsbergen, Loresa Maloku, Uli Tiepermann, Stephanie Kowalski as a wonderful photographer, the dance troupe from Capoeira, KinTop from Garath, Anja Belzner from Rheinklänge, Heidemarie Exner from Tanzeit and Natalie Kiboumou de Graaf from Businessraupen. They all accompanied the event in a miraculous way to the delight of all visitors. We are already looking forward to 2019 and thank all volunteers and official helpers.
June 21st, 2018
…what a big hello and a pleasure it was for Claudia Seidensticker to meet the lawyers of Vodafone early in the morning. On the agenda were many small important association works (like: Inventory list warehouse Bilk, inventory warehouse Rath, inventory KulturMobil, KuMo wash, clean up and catalog and much more) that the team will do on their social day for and with KRASS. The fact that the association has no permanent employees subject to social insurance and no office or other nest and is nourished only by donations and funding applications to the state / federal and local authorities, such tasks usually fall under the table. Terrible, but true in a small association! Therefore, there was a lot of joy on that day and here are a few impressions of the "Social day" of the Vodafone troop! Photos say more than words: ALSO, look and have fun! Best regards from Claudia.
May 30th, 2018
With this series we want to give you an insight into our KRASS world and the work of our artistic directors and at the same time show you what the success of our association is based on.
For the past ten years, KRASS e.V. has been implementing numerous projects in the areas of dance, visual arts, music and theater, providing all children and young people with free access to cultural education.
We would like to thank our artistic directors who, with their profession, help to shape our KRASS vision every day and carry it into the world. You are great!
March 21st, 2018
Drumming, singing, moving: As part of the KRASS offer "Drumming with Moussa" at the municipal youth leisure facility Kinderspieltreff (district: Friedrichstadt), all participants between the ages of six and 15 get their money's worth.
When Moussa sets the rhythm on the drum, it is as quiet as a mouse. Around 20 curious eyes focus on one point. Afterwards, the silence is exchanged for a quivering drumbeat. The participants eagerly imitate the music teacher. If one of them gets out of time, the 38-year-old counters the situation with a relaxed attitude and encouraging words: "It doesn't matter if you don't hit the rhythm, you learn from your mistakes. Moussa's attitude is the result of many years of experience working with children. As a teacher, he works for the Clara Schumann Music School, among others. However, he prefers teaching children "because they are always so positive," says the Senegalese.
The feeling of cohesion:
Participants can expect relaxed and offbeat lessons with Moussa. He is particularly keen to teach the children about African culture. So he also teaches them texts in his native language, Wolof: "Saysay be Inaleolema," which means "Together we are stronger!" With this language, Moussa wants to give them a sense of community. He himself grew up in a family of 13, which he left seven years ago and moved to Germany. The feeling of togetherness and the strength that comes from closeness are deeply rooted in his way of life. He sees his offer as a creative basis on which encounters can develop and flourish.
Self-determined leisure activities:
What distinguishes Moussa's offer from others is the self-determined participation in the course: you can grab a chair and join the participants or stop in the middle and pursue another leisure activity in the children's play center. Offering the children a large space for self-determined leisure activities is very important to facility manager Mostafa Zergani. Thus, he considers the drum course of KRASS e.V. as an important addition to the recreational program of the facility. "KRASS e.V. is familiar to me, among other things, through the activities at Fürstenplatz with the Kulturmobil, and so I was very pleased to receive the cooperation request from the association," says director Zergani.
Contact point for problems:
The children's play center "Oberbilker Allee" (Oberbilker Allee/Corneliusstraße) offers a wide range of opportunities for children between the ages of six and 14: from homework supervision to climbing sports, creative activities, vacation programs, excursions and trips. The municipal youth center is also a contact point for boys and girls who have problems at school or at home. More information about the facility can be found here.
May 13th, 2020
30 participants, huge ideas and unlimited possibilities: Under the keyword "diversity", the integrative project of KRASS e.V. brings together young people with and without refugee experience, who express their "otherness" in the categories of film, fashion, visual arts, rap, graffity and poetry. A final event with a colorful stage program awaits the audience on May 13 at the JAB.
Many ideas, interests and plans:
Paint cans, stencils, stickers and canvases – all kinds of art materials are spread out on several tables. On stage, young people are rapping into the microphone, a group of young people is still standing in the corner of the hall of the JAB – visibly in thought: how to describe or point out "otherness", how to rap about it? These are the questions the 14- to 20-year-olds are addressing in various art forms. Assisting them are project leaders Jason Firchow and Barbara Rückert. "The ideas come from the participants, we just support them in the implementation," says Barbara Rückert, who is overwhelmed by the initial impulses. From film, fashion, visual arts, to music and rap, to graffity and poetry- the "anders 3.0" participants have many ideas, interests and plans with which they would like to get in front of their audience.
From fashion collections, music videos and Arabic-language raps:
Nadja, Maxin and Sofia from the Dieter Forte Comprehensive School, for example, want to set up their own costume collection and are taking a very creative approach: the collection is not limited to fabrics, but also includes different materials such as paper, newspaper and the like. There are also plans for a music video by a number of young people who want to explore personal themes through multimedia. Ahmad, on the other hand, doesn't yet have any more specific ideas about how he might get involved. But the 15-year-old student with refugee experience already brings along concrete interests and hobbies: "I like performing my own lyrics," says the comprehensive school student (Heinrich-Heine-Gesamtschule Düsseldorf). Ahmad left his country Syria with his family and has been living in Düsseldorf for a year.
Casting ideas together into a mold:
For the project leaders, it is of immense importance that the participants get involved on their own initiative and personally. Whether the texts pass their lips in German, English or Arabic is up to them. "We think it's very good when participants come to the project with diffuse thoughts and don't yet know exactly what they want to do, because here we cast the ideas into a form together," say the KRASS project leaders.
Familiar faces:
Familiar faces from past rounds of "anders" are also back: Zartosht used anders 2.0 as a platform to bring his thoughts on the topic of diverstity to the public. The poem he read at the closing event contrasts two experiences of flight: fleeing Germany in the wake of World War II and fleeing to Germany (currently).
"anders" enjoys good response at schools:
KRASS e.V.'s successful project has been very well received not only by the participants and the audience, but also at schools: "We have received repeated feedback from teachers that communication between students with and without flight experience has improved as a result of "anders," explain Barbara Rückert and Jason Firchow. In addition, friendships have developed within the framework of the project: "We want students from regular and newcomer classes to get closer to each other, to pull together and to meet each other creatively," says Barbara Rückert.
All project dates at a glance
Start: Feb. 19, 2018
End: May 13, 2018
Every Monday between 5.30-21.00 p.m. at the JAB
(House of Youth, Lacombletstraße 10, 40239 Düsseldorf).
All media representatives and interested parties are cordially invited to the closing event of "anders 3.0", on 13.05.2018, at the JAB. Further information on the program and time will follow in the coming weeks.
May 12th, 2018
The Young Action Stage (JAB) in the Haus der Jugend was transformed into a cultural meeting place. For three months, around 30 project participants explored the themes of "diversity" and "variety". The result was a unique cultural program with an art exhibition and stage show.
Showcase project for "lived integration":
"I'm thrilled with the project," enthuses Sabine Fleischer, the project manager of the JAB (Haus der Jugend), and continues: "Rarely are young people with and without refugee experience brought together on such a creative platform. For Fleischer, the KRASS offer "anders" is a showcase project when it comes to "lived integration." The participants have different life paths, diverse stories in their luggage, and they all bring refugee experience with them. In short: they are all different! And those who are different have a lot to tell, to show and to express.
More than 100 guests were able to see this for themselves. The 14 to 22-year-olds presented, among other things, a video performance, German- and Arabic-language rap performances, a poetry performance, drawings, graffiti's, poems, and a film about friendship and self-realization.
Passionate hairdresser and oriental sounds:
Azad is 14 years old and is on fire for the hairdressing profession. The comprehensive school student supported his older brother in his barbershop before leaving home in Iraq with his parents. A barber's corner was set up for him in the entrance hall of the JAB. Aside to his impressive video performance on the screen, Azad is passionate about hairdressing again, showing off his skills. "Everyone I have coiffed was very pleased," said the 14-year-old. Roujin brought her musical talent to "anders." The 15-year-old Syrian's bouzouki performance transported the audience to the world of oriental sounds.
Talented poet criticizes teacher:
Zartosht is a master of words. What moves him, above all what disturbs him, he skillfully brings to the point with poems. This also applies to the way poems are handled in the classroom. He expresses his displeasure as follows: "Man, what's so hard about it/ To explain poems / Without weighing heads down? / All one has to do is grant freedom / To understand the poems oneself / To see them with one's own eyes. If nothing changes in the teaching of poems in school, the young poet attests to a sad end for them: poems will be dormant very soon / if we continue to listen to our teachers.
"Friends must catch each other"
The students Laurin, Lukas, Kilian and Manuel also got to the heart of what preoccupies and moves them and made a film. The work is particularly impressive because of its autobiographical features. Thus, the young people process the topics of dreams and self-realization, but also friendship and the loss of their best friend. "Friends have to pick each other up and encourage each other to believe in themselves and their talents," says the film team from "anders". In the second round, Kilian and Manuel had already dealt with the topic of consumer society in a socio-critical way and received a lot of praise. "Our second film is clearly better than the first," the best friends noted. They wish the continuation of the project and assure: "Our next film will also be much better again," said the young filmmakers.
Participants shine on stage:
However, not only the project participants are happy and satisfied on this evening, but also KRASS founder Claudia Seidensticker-Fountis, who praises both project participants and artistic directors Barbara Rückert and Jason Firchow. "If all participants shine on stage that evening, then the artistic directors have super implemented the vision of KRASS and brought out the best in the children and young people. That makes me very proud," says Seidensticker.
May 12, 2018
Creative space for children:
While the district shows its intercultural side, KRASS e.V. is on site with a booth and various art offers for all children. The KRASS painting and handicraft program under the artistic direction of Jennifer Trautwein and Aischa Sabbouh-Eggert offers children creative freedom: from any handicraft materials such as toilet rolls and fabrics, the little guests can either bring animals and fantasy creatures to life and design their animal and fantastic habitats.
Many encounters:
"This year, we are once again taking the opportunity at the neighborhood festival to bring art closer to children and our association work closer to residents and guests," says association founder Claudia Seidensticker-Fountis. Seidensticker's team is looking forward to the intercultural festival and the many encounters with both young and old guests.
High-quality pedagogical work with children:
In addition, all guests and interested parties can learn more about the work of our association, get an impression of our pedagogical high-quality work with children and be impressed by the diverse cultural program. In addition to live acts and oriental delicacies, there will also be a henna tent and a bouncy castle for the younger guests.
Creating a positive image:
The Maghreb May Festival was realized for the first-time last year. The aim was to show the district, which is "discredited" as a problem district, from its positive side and to bring together local citizens and business managers.
February 10th, 2020
When the group room of the refugee shelter on Meineckestraße is unlocked every Wednesday, children and young people between the ages of three and 16 enter a creative world. And in it they leave their mark!
Bring your own impulses:
Today it's all about carnival and colorful masks are to be created. Mareike van Elsbergen, artistic director of the project, has brought the necessary materials for the KRASS creative program. Since the end of 2016, the certified art therapist has been running the program for children and young people with refugee experience together with Sibel Durmaz. Both are united by the desire to bring children into contact with art and culture and at the same time to create a space for encounters. The participants are supposed to bring their own impulses and leave their own traces by means of different materials: "You can do that best in childhood, because that's when you're curious and free from the restrictions of the adult world," Mareike notes.
Exchange is in the foreground:
"Sometimes the offer is also an opportunity for the participants to exchange ideas with the interns about things that concern them," explains Sibel Durmaz. The childhood educator has been involved from the very beginning and has accompanied many children on their creative journey: "Some of the children were very quiet and introverted at the beginning." Today, she is virtually showered with warm hugs from these children. So is her daughter. On her first day at the shelter, Belgin Durmaz never thought she would stay so long. In the meantime, the 14-year-old has been involved at Meineckestraße for more than a year. "It's a nice feeling to see how much the children look forward to seeing you," explains the high school student, who has grown very fond of the children.
Helping children who are starting a new life:
Dajana Deckers found her way to the KRASS creative program through a social internship. She has been supporting KRASS for several months and has decided for herself, "After the internship, I'm going to volunteer here." When asked why she is doing her internship in a refugee shelter, the 15-year-old replies after a brief pause, "I wanted to help the children who are starting a new life in Germany."
Costumes are already ready:
Sümeyye* is one of those children. She has been living in Germany with her parents and siblings for four years. For her, the offer from KRASS e.V. is an opportunity to "do cool things." The course instructors noticed Sümeyye's liveliness. The fourth grader quickly got involved and helps new participants with language barriers. She did not make a carnival mask today, which is not to say she does not celebrate carnival. Her costumes are ready, only she cannot quite decide yet, "I'm either going as a tiger or a witch," she explains. Next week she will tell Belgin about it – that much is certain!
*name changed by the editors
February 8th, 2018
"Hip hop is about respect!" explains Franziska Schulz to the participants of the dance class "back to the roots". Since 2017, the 28-year-old has been leading the KRASS e.V. offering at the Anne-Frank-Realschule together with Mira Scholz.
Keeping an eye on the playful character:
Every Thursday, up to twenty 6th and 7th grade students take part in the program. In addition to several years of experience in the dance scene, the course instructor also brings a wealth of knowledge about the art form and provides her participants with key data: Hip-hop culture developed in New York's Bronx in the 1970s. At the latest since the mid-1990's, the world's largest youth movement has also established itself in Germany and serves as a mouthpiece for children and young people. "It is important that the participants never lose the playful character in Battlen," explains Franziska Schulz. Battlen refers to a duel in which two dancers compete against each other. "But," Schulz adds, "always for fun and based on respect and exchange." A lawyer by training, she finds that dancing is an invigorating and creative balance to her work at the Administrative Court.
Community spirit is in the foreground:
The diversity in the course is reflected particularly in the choreography: from basics to freestyle, the participants are taught variations from the "Urban Styles", but also given plenty of room for their own wishes. Instructed steps are repeated several times, in between the participants may also throw in their own choreos. What sets the course apart is the sense of community with which the leader and participants proceed. Each specially initiated movement is integrated into the course and repeated by everyone together. If you're looking for heated competition, you won't find it here. On the contrary, participants dance and learn together. The focus is on the "we" and not just the "I". In this way, the participants discover the various expressive possibilities of dance for themselves and, at the same time, practice their skills. Male dominance, which is so typical for the hip-hop scene, is not noticeable here either: in the dance class, the students are clearly in the majority!
Elsa tanzt:
In addition to the dance class at the Anne-Frank-Realschule, Franziska Schulz also supervises another class at the Jan-Wellem-Förderschule. Both courses are part of the KRASS offer "Elsa tanzt". Children and young people between the ages of six and 18 benefit from the educational program, which is specially tailored to the respective target group. You can read more about "Elsa tanzt" here.
January 22nd, 2018
Parents, children and acquaintances gather curiously at the door and listen to the singing children of the refugee shelter on Roßstaße. They are really turning up the heat, singing and dancing to the song that project leader Enrique Martinez brought for them: "I like to lie in the grass and look up at the sky, / don't all those clouds look funny?"
Songs of lightheartedness:
The lightheartedness described is almost foreign to the participants of the music offer "Musik ohne Grenzen," (= music without borders) because for several months they have been housed with a total of 300 people with refugee experience in the former tax office on Roßstraße. Everyday life for the residents is anything but carefree. KRASS wants to change that with the musical workshop, at least for two hours a week, and makes use of the unlimited possibilities of music. Enrique Martinez, who has been running the project together with several volunteers since March 2016, brings along a guitar or various song lyrics and a recorder every Monday. The important thing is that there are no limits to what the participants can do when making music, singing and dancing. Accordingly, it is lively in the music room during the offer.
Promoting ego strength:
With this project, the director wants to support the children in developing their ego strength. The songs are also intended to bring them closer to the German language. For many participants, the course is their first contact with the German language. The development of the participants takes place linguistically, but above all personally. The club representatives have been able to observe many a time how children overcome their shyness.
Gaining confidence:
"Some children were very quiet and introverted at the first meetings, but in the meantime, we can hardly save ourselves from heartwarming greetings from the children," laughs project leader Enrique, who is embraced on both sides by the participating children. It wasn't always this warm. Especially in the early days, parents and children from Roßstraße met the KRASS representatives with mistrust. This changed with regular meetings between the residents and the association representatives "but especially with the participation in the carnival parade we were able to break the ice between the children and especially the parents," states Enrique. A carnival party with the children is also planned for this year. And until then, they will jump, dance and sing songs of lightheartedness: And I fly, fly, fly like a flyer / am as strong, strong, strong as a tiger / and as big, big, big as a giraffe, so high. Ohahah
You can find more information about the MusicProject here.
January 10th, 2018
Anyone who believes that children cannot be inspired by art is seriously mistaken. Anja Sonneson convinces them of the opposite in her art workshop "Studio K". The monthly program at KiT (Kunst im Tunnel) is a cooperative project between Kunsthalle Düsseldorf, Krass e.V. and KiT – Kunst im Tunnel.
Gaudy wigs, glittering hats and feather masks:
Based on the current exhibition at the Kunsthalle Düsseldorf ("Akademie" [working title]), she wants to recreate a past performance from the history of the Kunsthalle with participants between the ages of five and 13. To this end, she has brought along numerous unusual disguises. Between gaudy wigs, glittery hats and feather masks, each participant picks up a piece of disguise. In an instant, the workshop participants are transformed into photo models, slip into new roles and pose to their hearts' content. The moments are captured with a camera and then viewed and printed out together.
Vehicle for new visions:
With her workshop, Anja Sonneson, who has been running the program for two years, not only wants to convey an awareness of art. It is just as important to the visual artist to give her participants courage and the joy of experimenting: "Art thrives on daring to do something different from what we are used to," Sonneson emphasizes and continues: "Art means creation and knows no right or wrong. With this, Sonneson from Düsseldorf speaks from the soul of the founder of Krass e.V.. Claudia Seidensticker-Fountis also sees art as a vehicle for new visions. "This vehicle brings forth something unique with courage and creativity," Seidensticker-Fountis emphasizes.
Registration possible at any time:
For all children and young people who want to get to the bottom of the questions "What is art?", "What is inspiration and where does it come from?" or "What materials does a sculptor work with?" and let off steam creatively, the doors of KiT are open. Participation is free of charge. Registration at bildung@kunst-im-tunnel.de is requested.
On the current exhibition at the KiT and the Kunsthalle:
The current exhibition Akademie [working title] at the Kunsthalle and KiT is based on the legendary exhibition series "bet¬ween" (1969-1973), which emerged from protests and discontent of students, especially of the Kunstakademie, against the institution and focuses on the history of the Kunsthalle.
January 1st, 2018
Parents see arts education as an important foundation for their children's success in life. They believe that arts education has a significant impact on the personal and professional careers of their children. This is shown by the representative survey of parents on the importance and practice of cultural education (Eltern / Kinder / Kulturelle Bildung. Horizont 2017), which was conducted by the Allensbach Institute for Public Opinion Research (IfD) on behalf of the Council for Cultural Education. Parents nationwide (331 mothers and 333 fathers) with children aged up to 17 whose oldest child is at least 3 years old were surveyed.
Interest depends on parents' cultural involvement:
Children's interest in various cultural areas depends strongly on the cultural commitment of their parents. The representative survey in the area of music provides an important result: 83% of mothers and fathers who play an instrument at least once a month also make music together with their children. If the parents do not play an instrument, only a good quarter of the children are musically active.
Low interest among parents with basic qualifications:
While parents from better economic backgrounds who have a higher level of education place significantly more value on basic knowledge in the area of culture, the situation is quite different for parents with an average or basic level of education: They express less interest in culture and find basic knowledge in this area less important. In addition, they are less confident in supporting their child's cultural interests. Just one-third are convinced that they can help their child sufficiently.
Situation particularly drastic for single parents:
Parents with a low level of education and single parents are less interested than average in their children taking part in guided cultural activities outside of school and daycare centers. They show significantly less interest in their children taking part in guided activities in the areas of art, music, dance and theater. Thus, schools play a very important role as the only place for children from socially disadvantaged backgrounds to discover cultural interests.
Nationwide provision necessary:
Already the study "Youth/Art/Experience. Horizont 2015" by the Council for Cultural Education already showed the central role that parents play in the formation and promotion of children's cultural interests. The supplementary study is intended to provide information about the importance of cultural education from the point of view of parents. The results of the study show that a nationwide high-quality and quantitatively sufficient basic supply with offers of cultural education in the preschool area must be ensured as a compensation.
The Council for Arts Education:
The Council for Arts Education is an initiative of the Bertelsmann Stiftung, Deutsche Bank Stiftung, Karl Schlecht Stiftung, PwC-Stiftung, Robert Bosch Stiftung, Stiftung Mercator and Stiftung Nantesbuch. As an independent advisory body, the initiative addresses the situation and quality of cultural education in Germany. For more information on the Council for Arts Education, click here.
You can find the abridged version of the study here.