February, 21st was International Mother Language Day. The focus is on promoting linguistic and cultural diversity. Our own language is part of our cultural identity! Because we at KRASS see multilingualism as the key to mutual understanding and respect, our hip-hop songwriting and dance project POWER TO THE DISTRICT! for young people between 15 and 18 with and without a migration background will start in the following weeks.

Sponsored by the Paritätischer Wohlfahrtsverband – Gesamtverband
Because our programme is as diverse and colourful as art itself, we inform you about the upcoming Easter holidays.
8 children will be given the opportunity to discover their individual creative potential and make new contacts under the guidance of our academically trained art professionals from April 11th to April 14th between 10am and 3pm.
In a manageable group – which follows our principle that every child gets the attention they need – the children aged between 8 and 14 learn all about materials, techniques and artistic forms of expression and have the chance to develop their own creativity. We are excited and looking forward to it!

The programme is funded by the German Foundation for Commitment and Volunteering.
Remember the pictures of the diverse delicacies that adorned our feed last year in August? Our mouths were watering!
… And because our intercultural food workshop was such a success, it will continue from March, 12th:
KOCH KULTUR – the FREE weekend food blog workshop for children and young people aged 11 to 15! It will be run by Gabi Luigs and participants will learn about each other's life stories and preferences through the presentation of their favourite recipes and will be able to present themselves.
They experience sharing, diversity and togetherness by cooking together and creating a food blog. Cooking videos are made, animated GIF's are created and stories about the recipes and memories are shared.
The experience within the workshop is complemented by excursions to the different districts of Düsseldorf, which give us insights into other cultures. In this way, the children and young people learn to expand their understanding of life outside their own district. Because… what connects more than eating together & making memories through new experiences?
Funded by: Federal Ministry for Family Affairs, Senior Citizens, Women and Youth as part of the action programme "Aufholpaket – das Förderprogramm für Kinder, Jugend und Familie" // German Children and Youth Foundation // AUF!leben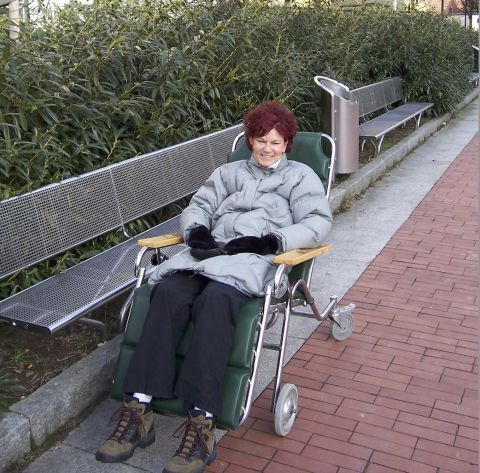 TRIGGER WARNING: The following pictures show photos of an accident scene.
Today we take a look back into the past. We share with you the situation from which KRASS e.V. was founded. To quote the Rheinische Post: The beginning was almost the end! On 24 February 2004, 18 years ago today, our founder Claudia Seidensticker – already a "jack-of-all-trades" as an artist and mother of three – suffered a serious car accident.
Due to black ice, she lost control of her vehicle and collided head-on with a tree. The car burst into flames. It took numerous operations and long stays in hospital, but Claudia survived! She talks about having been given a second life and she is using it KRASS!
Every day she organises, motivates and does her utmost to convey a message to children and young people in difficult situations: YOU can do it! YOU can achieve anything if you believe in YOU! We thank Claudia from the bottom of our hearts for her daily commitment. Her commitment. Her heart and soul and her tireless inspiring confidence in the good! Claudia lost almost everything in 2004. In 2008, she founded KRASS e.V. and gives everything for the children and young people worldwide every day.