But we also take the inauguration of the house as an opportunity to say THANK YOU to all of you for the great work this year.
We have grown again and have managed many great projects together.
A lot of energy went into the work with the Ukrainian children, for whom we were also able to acquire a lot of funding – all the other refugee children we care for also benefited from this.
We have further improved our structures and professionalized ourselves. We have found great new employees or they have found us! and we have continued to network. We are an association that lives through volunteer work, but we are working hard to generate donations, project funding and hopefully more.
In 2022, we received the Cross of Merit of the State of North Rhine-Westphalia and have won numerous very important funding applications. We are on a very good path and I look forward to continuing this with you.
An important step for us is that we have become even more specialized in the admin team this year. This means that Carina is responsible for finances and controlling, Hayat is the head of communications and is primarily responsible for fundraising, sponsors and donors. Melanie Oberreuter has the Naku firmly in her hands and Ana is in charge of the KulturMobil. I'm very happy that the tasks are being distributed more and more clearly among individual heads.
Since we still have to account for every euro we spend and have to explain every cent in the proof of use, I ask you lecturers to continue to account for your projects and to record your participants as neatly as you have done so far.
As we said, without honorary work nothing runs at KRASS, so we have prepared for you, dear volunteers, an award in the form of a medal.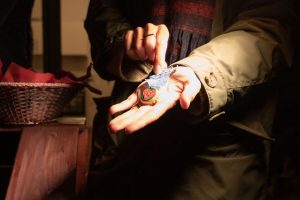 Now enjoy yourselves and enjoy the evening: thank you!
Best regards from your Claudia